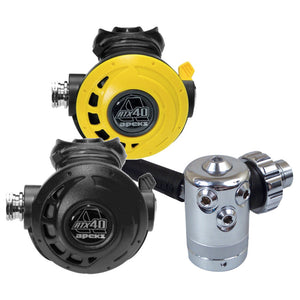 The Apeks ATX40 DS4 regulator is an Apeks ATX Series regulator, a lightweight and reliable Apeks regulator, consists of the fully balanced first stage Apeks DS4 and the balanced 2nd stage Apeks ATX40 with DIN connection.
Apeks regulators have long been standard equipment for every ambitious diver. Because Apeks regulators stand for reliability and first-class performance.

The Apeks DS4 1st stage is an overbalanced, diaphragm-controlled 1st stage, which means that the air delivery performance remains unchanged regardless of depth or tank pressure. For the diver, this means constant, pleasant breathing even at great depths or at very low tank pressure.

Even in very cold water, the Apeks DS4 1st stage is the right 1st stage with good freezing resistance because it is completely closed and has a Dry chamber.  As a result, the Apeks DS4 1st stage is also optimally protected against soiling.

The Apeks DS4 1st stage is equipped with 1 high-pressure connection and 4 medium-pressure connections that are thoughtfully placed for a comfortable and flexible hose configuration.

The Apeks 1st stage DS4 is equipped with a DIN 200/300 bar connection and is also available in our online dive shop as Apeks Nitrox 1st stage.

The Apeks ATX40 2nd stage is a pneumatically balanced second stage which ensures a constant agreeable breathing.

The exhalation membrane of the Apeks ATX40, which optimises the regulator's breathing performance, is very efficient.

The Apeks ATX40 2nd stage is equipped with a Venturi lever that prevents unintentional free flow on the surface. Clearing the ATX40 2nd stage will be easy even with thick gloves, because the 2nd stage purge button is large and easy to use.

Optimal protection against icing is provided by the patented heat exchanger, which directs the cold outside the 2nd stage before the it can freeze.

The Apeks 2nd stage ATX40 is equipped with the very comfortable Apeks Comfo-Bite mouthpiece which works against jaw tension. The well-designed Apeks ATX40 Airway Deflector is compact, but cleverly directs the exhaled air out of your field of vision.

All in one, with the Apeks ATX40 DS4 you have a reliable and powerful Apeks regulator that will serve you well as both Apeks travel regulator and Apeks regulator for cold water.
FEATURES - 1st stage Apeks DS4
Operation: overbalanced membrane-controlled, completely closed
Housing type: Cylindrical with dry chamber
Number of HD ports: 1
Number of ND ports: 4
Protection against icing: dry kit
FEATURES - 2nd stage Apeks ATX40
Material: lightweight polymer blend, antibacterial polymer in areas exposed to respiratory gas
Operation: pneumatically balanced
Breathing comfort adjustment: no
Venturi lever: yes
Cold protection: yes, patented heat exchanger
Nitrox: yes, up to 40%
Special feature: large purge button with which you can dose outflowing air, convertible from left to right, anatomical Comfo-bite mouthpiece