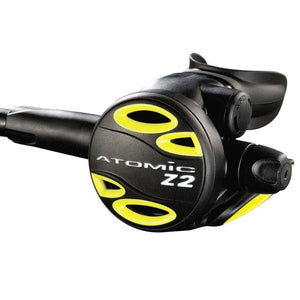 The Atomic Z2 Octopus is designed and precision-built to perform as perfectly as its primary model counterpart. So, when you need it, you know exactly what to expect.

It features critical metal components of the demand valve made of Titanium or 316 Stainless Steel which are completely corrosion proof.

The demand valve housing is machined of brass and plated with an exotic Zirconium plating that exponentially outlasts conventional chrome plating.
FEATURES

Precision-Built to Perform-as-Perfectly as its Primary Model
Factory-Rated for Oxygen-Enriched Mixtures Up to 40%
Demand Valve Body: Zirconium Plated Brass
Critical Metal Components of Demand Valve: Titanium or 316 Stainless Steel, Completely-Corrosion-Proof
Diaphragm: High Quality Silicone Rubber
Pneumatically-Balanced Poppet Second-Stage
Atomics Patented Seat Saving Dynamic Orifice
Orifices is a Floating Valve Design, Reduces Wear on Second-Stage Poppet Seat
Atomics Patented Automatic Flow Control (AFC)
AFC: Unique Diaphragm Activated Vain Automatically Controls the Flow and Venturi-Effect
AFC: Optimum Breathing Resistance at All Depths
Rapid Adjustment Knob: Manual Second Stage De-Tuning in Rare Special Situations
Bright Yellow Front Cover for Easy-Identification in Out-of-Air-Emergency
Dual Silicone Comfort Fit Mouthpiece with Tear-Resistant Bite Tabs
36" (91.4 cm) 3/8" Threaded Low Pressure (LP) Hose
Weight: 12.3 oz (349 g) with LP Hose
Limited Lifetime Warranty