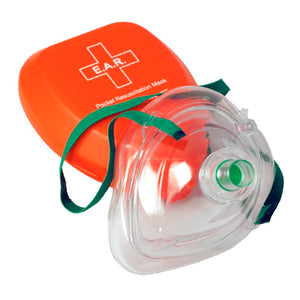 Beaver Expired Air Resuscitation (E.A.R) Pocket Mask, durable polymer face mask with fitting for O2 administration.
A must for any Rescue Diver and First Aider. Improve rescue breathing by using this mask that fits over both the nose and mouth of the patient/victim.
This face mask can improve efficiency of resuscitation techniques and save lives.   
Used in PADI Rescue Diver Course and PADI Divemaster Course. 
PRODUCT FEATURES

Supplied complete with high durabble, high visibility storage/carrying case.

Complete with head strap

HS CODE - 90200000 C.O.O. - TW