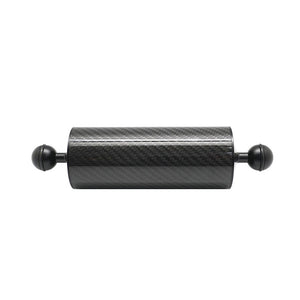 GA-8 12"/30.5cm D60mm Carbon Fiber Underwater Float Arm for Video Light/Strobe mounting.
12" / 30.5cm Underwater float arm has a diameter of 60mm / 2.7" with the weight of 230g and provides buoyancy of 580g.
This arm is made out of CARBON FIBER which makes it super light for travel and very slick looking as well.
Floating arm is typically used in scuba diving, to increase the buoyancy if you are carrying heavy gear. By attaching this arm to underwater photography equipment you can more easily manipulate your underwater housing and effortlessly take some magnificent photos and videos.