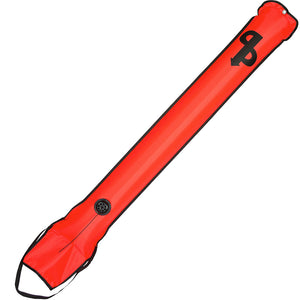 The ORIGINAL and The BEST
The AP SMBC - Surface Marker Buoy Closed - is the original self-sealing Surface Marker Buoy - much copied but never bettered.
The SMBC is inflated by simply purging a second stage in the open end when underwater. The really clever bit is in the mouth where our unique self-sealing baffle - or duckbill valve - is forced shut, forming an airtight seal, on inflation.  Also features a stream-lining flap which folds back over the mouth and prevents any sea-anchor drag effect when used in a current.
The SMBC can be used as a delayed-action SMB or it can be inflated at the start of the dive and towed as a standard surface marker.
The SMBC rolls up neatly and can be stowed in a pocket, attached to an external D ring or wrapped in the dedicated SMB velcro pouch at the rear left of the AP Commando and Commando Explorer.
At the surface, the SMBC is pulled upright by tension on the line and clearly marks the diver's position. The baffle prevents air spillage and the buoy remains inflated making it easy for the surface crew to track the diver or for the diver to hold aloft and wave if separated from the boat.
A message slate, ID marker or reflector can be tied to the top eyelet.
Dimensions: 1.4m long x 20cm wide.