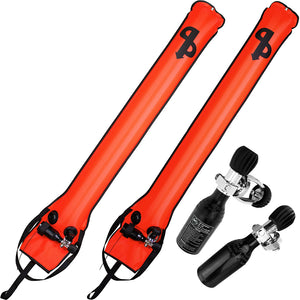 A real gem of a product, the AP SMBCi - self-sealing SMB with inflation cylinder has all the features and advantages of the AP SMBC together with an independent inflation mini-cylinder (0.1 litre 232 bar available with either DIN or Int A-clamp fittings).
This not only makes deployment a very simple procedure but it allows you to conserve expensive mixed gases for what they are intended rather than SMB inflation.
The mini-cylinder is easily replenished by decanting from a standard air cylinder. It folds neatly away inside the rolled-up SMB and the SMBCi can then be stowed in a pocket, attached to an external D ring or wrapped in the dedicated SMB velcro pouch at the rear left of the AP Commando and Commando Explorer.
One key advantage over similar systems is that the SMBCi can still be inflated via the baffle with a second stage in the event that you have forgotten to fill the mini-cylinder.
At the surface, the SMBCi is pulled upright by tension on the line and clearly marks the diver's position. The baffle prevents air spillage and the buoy remains inflated making it easy for the surface crew to track the diver or for the diver to hold aloft and wave if separated from the boat.
A message slate, ID marker or reflector can be tied to the top eyelet.
Dimensions: 1.4m long x 20cm wide
Mini-cylinder: 115mm long, 0.1 litre 232BAR (Int A-clamp or DIN - please specify)