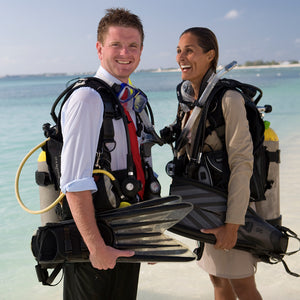 This course provides you with in-depth knowledge of the instructor development process and prepares you to shape the next generation of PADI Professionals.
Just as scuba divers look up to divemasters, instructor candidates really respect IDC Staff Instructors. As the name implies, IDC Staff Instructors assist with instructor training and share their wisdom and experience with new PADI leaders. Taking the IDC Staff Instructor course provides you with in-depth knowledge of the instructor development process and prepares you to shape the next generation of PADI Professionals. It's also a great career move. 
Master Scuba Diver Trainers (MSDTs) who are ready to be excellent role models and agree to use the PADI System and components in their entirety may enroll in an IDC Staff Instructor course.
Assistant Instructor Pre-Requisites

Minimum age 18

PADI Master Scuba Diver Trainer certification

 
Course Fee
IDC STAFF INSTRUCTOR COURSE £750pp
What's included?
The course fee includes, air, tuition, swimming pool fees. Plus the required PADI IDC crewpak which includes all the materials such as the PADI IDC Staff Course Director manual and the associated PADI slates etc to assist you when involved in IDC courses.

Course Duration
The IDC Staff Instructor course can be completed over 3 days.

How do I sign up? 
Pay your non-refundable reservation fee to secure your place, then call into us at the dive shop Scuderia House, Swindon SATNAV SN2 1EG and we can discuss in detail with you.
What will I do?
You become a master of instructor-level dive theory, knowledge development teaching presentations and confined water teaching presentations.

After a preassessment of your instructor-level knowledge of dive theory, exemplary dive skills and role-model presentation techniques, you'll participate in these sessions:

Instructor development standards, procedures and curriculum
How to organize and conduct the PADI Assistant Instructor course
The psychology of evaluation and counseling
Evaluating knowledge development, confined water and open water teaching presentations
Plus, you'll get to audit an IDC or practice teaching many curriculum components.
What You Can Teach
As an IDC Staff Instructor, you can independently teach PADI Assistant Instructor courses as well as assist with IDCs and other instructor-level continuing education courses. 
Scuba Equipment Requirements
You will need to supply your own full set of scuba equipment that is in good condition and within the manufacturers service guidelines. Equipment must include:
Regulator, Alternate Air Source, SPG, Depth Gauge, Timing Device, BCD, Exposure Suit, Weight System, two Signalling Devices (Whistle / SMB's etc), Dive Compass and Dive Knife.

Discounts are available on any required equipment purchases made during your enrolment on the course.

What next?
PADI Master Instructor, one of the elite dive educators – PADI Master Instructors embody the true dive professional, having demonstrated a thorough understanding of the PADI System of diver education, and put it into practice by training 150 or more PADI Divers. 
They are dive industry leaders who help to shape the development of future dive courses.