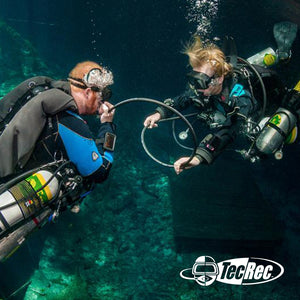 Our PADI Tec 40 course is great way to enter the world of technical diving.  PADI Tec 40 is the first subdivision of the full PADI Tec Diver course and bridges the gap between no stop diving and full technical deep decompression diving.
You gain experience and begin building the knowledge and skills you need to continue your tec diver training. The course is an integrated sequence of three subcourses, Tec 40, Tec 45 and Tec 50.  These can be completed as a continuouse course, or completed separately with a time span between them. 
Complete the Tec 40 course and once qualified you will able to dive to 40 metres and manage up to 10 minutes of decompression.
Tec 40 Diving Pre-Requisites

Minimum age 18.
Students must be certified as PADI Advanced Open Water Diver, PADI Enriched Air Diver with at least 10 dives using enriched air deeper than 18 metres, PADI Deep Diver with at least 10 dives to 30 metres, Minimum of 30 logged dives.  
All participants must obtain a Full Medical Statement signed by a licensed diving physician within the last 12 months.
Course Fee
TEC 40 DIVER COURSE £445pp
What's included?
The course fee includes main equipment hire, air, tuition, PADI Tec Diver Manual, PADI Certification fee. Not entry fees to inland dive sites.
Course Duration
4 Open Water Dives - 2 Days at a UK inland dive site

How do I sign up? 
Please contact us at dive shop Scuderia House, Swindon SATNAV SN2 1EG and we can discuss in detail with you.
What will I do?
The Tec 40 course consists of three knowledge development sections, three practical application sessions and four training dives.

Technical diving's risks and responsibilities

Technical diving equipment, proper rigging and

set up

Gas planning, oxygen limits and decompression planning

Team diving techniques and emergency procedures, such as dealing with free flows, manifold leaks and out of gas situations
What next?
Take the TecRec course, an integrated course flow that takes you from the beginning to a highly qualified tec diver using different gas mixes.  Each level introduces you to new gear, planning and procedures appropriate to extend your diving limits.