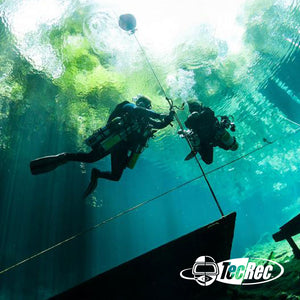 Our PADI Tec 45 course is the second part of the full PADI Tec Deep Diver program.
You'll extend your depth limit to 45 metres and learn to plan and execute repetitive decompression dives using a single stage / decompression cylinder. It puts you in a complete tec diving rig, which can be either backmount or sidemount. You'll also make accelerated decompression dives using enriched air or pure oxygen. 
This is a course where you'll rise to the challenge and make the commitment to become a technical diver.
Tec 45 Diving Pre-Requisites

Minimum age 18.
Students must be certified as a PADI Advanced Open Water Diver, PADI Rescue Diver, PADI Enriched Air Diver, PADI Deep Diver and PADI Tec 40 Diver. 
A minimum of 50 logged dives, with at least 12 dives on enriched air nitrox deeper than 18 metres and 10 dives deeper than 30 metres
All participants must obtain a

 

Full Medical Statement

 

signed by a licensed diving physician within the last 12 months.
Course Fee
TEC 45 DIVER COURSE £405pp
What's included?
The course fee includes main equipment hire, air, tuition, PADI Certification fee. Not entry fees to inland dive sites.
Course Duration
4 Open Water Dives - 2 Days at a UK inland dive site

How do I sign up? 
Please contact us at dive shop Scuderia House, Swindon SATNAV SN2 1EG and we can discuss in detail with you.
What will I do?
During the course you will use a standardised technical diving rig, learn the skills, equipment and planning needed to dive to a maximum of 45 metres.
Building on what you learned in the Tec 40 course, you will focus on the function and maintenance of tec diving equipment and associated issues. 
Continue fine-tuning gas planning and calculating accelerated decompression stops. Plus, you learn to think like a technical diver!
What next?
Take the TecRec course, an integrated course flow that takes you from the beginning to a highly qualified tec diver using different gas mixes.  Each level introduces you to new gear, planning and procedures appropriate to extend your diving limits.