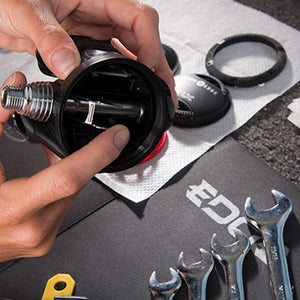 When servicing your regulator, a pre-service inspection and testing report will be carried out before disassembling, degreasing, cleaning, rinsing and drying. 
All parts are reassembled using genuine replacement parts and service kits, this includes all hose O-rings. The SPG swivel with new O-rings and oxygen compatible lubricant is used throughout. 
All parts are inspected methodically to identify any that are worn or broken, and both the 1st stage and 2nd stage are reset to manufacturer's settings and tested, before final assembly. 
Regulator is complete with all hoses and SPG.
Prices quoted include service kits for: 1st stage, 2nd stage, and octopus.
Please note:
Prices are subject to change, please confirm prices prior to having equipment serviced.
January 2022