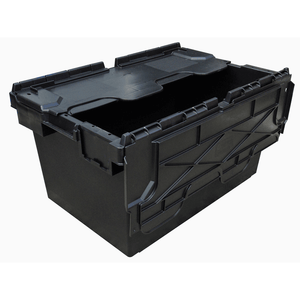 Heavy duty, big footprint 80 ltr gear gulper for storing all your scuba diving gear. 
Integral lids, Stackable when closed. With open lids, containers nest into one another to save space.  Lids can be secured at either end with cable ties or security seals, smooth sides and base for automated conveyors and ergonomic handgrips for effective manual handling.
No drainage holes in base. Popular with divers / the diving community as a Dive Box for wet kit, ideal for carrying gear from the car to the boat or entry point. Can also be used as a tub to wash or soak wet dive gear.
Made from recycled polypropylene base and virgin polypropylene lid providing environmental benefits.
External dimensions : L 710 x W 460 x H 368 mm
Internal Dimensions : L 597 x W 374 x H 330 mm
 Colour : Black